2015 News
This season the Smith Quartet continues their exploration of music for string quartet and percussion with percussionist Joby Burgess in performances including Steve Martland's joyful Starry Night and a new commission – Distil – from the genre-busting Graham Fitkin.

Season highlights include two concerts at Sound Scotland and being featured throughout 2015 in Kings Place's Minimalism Unwrapped festival including a special focus on New York's cult 'Bang on a Can' collective working with composer David Lang and soprano Else Torp as well as a new commission from Wayne Siegel. For full details see the Schedule page.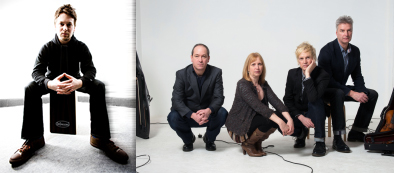 Kings Place
Gavin Bryars - String Quartet No. 1 'Between the National and the Bristol'
Graham Fitkin – A Small Quartet
Louis Andriessen … miserere…
Wayne Siegel – New Work
Steve Martland – Patrol

www.kingsplace.co.uk
Kings Place
Smith Quartet plays Bang on a Can
With Else Torp – soprano
Michael Gordon – Potassium
Meredith Monk – Stringsongs
Julia Wolfe – Early that Summer
David Lang – Arc Luggage
Steve Reich – Triple Quartet

www.kingsplace.co.uk
Nottingham
With Joby Burgess, percussion
Kevin Volans – String Quartet No. 10
Graham Fitkin – Distil
Iannis Xenakis – Psappha
Steve Martland – Starry Night

www.lakesidearts.org.uk
General Management
Stephen Chamberlain
stephendchamberlain@gmail.com

T: +44 (0)7932 100542



The Smith Quartet gratefully acknowledges the support of PRS for Music Foundation, Arts Council England and the RVW Trust.
IAN HUMPHRIES
– VIOLIN

RICK KOSTER
– VIOLIN

NIC PENDLEBURY
– VIOLA

DEIRDRE COOPER
– CELLO

"Listen, reflect, marvel."
The Observer, February 2010
"In 2006, the Huddersfield Contemporary Music festival focused on Morton Feldman, one of the few important composers of the second half of the 20th century whose music had not previously been featured at the festival. At the centre of this belated tribute was a survey of Feldman's works for piano and strings, spread across several recitals, with pianist John Tilbury and the members of the Smith Quartet. They were extraordinary experiences."
The Guardian, February 2010
"…the superb Smith Quartet…"
The Times
"Effortless class…"
BBC Radio 3: Andrew McGregor's CD review
"As versatile as the Kronos Quartet, and smoother than the Brodskys, The Smith Quartet have edged ahead of their competitors in contemporary chamber music…"
The Independent On Sunday
"How long before the Kronos is labelled the 'American Smith Quartet'?… they are ahead of the curve at generating new repertoire and taking the experimental back-catalogue seriously…"
Classic FM Magazine